Project Timeline:
3 Months
Project Focus:
Product Design, Group Collaboration, Content Research
What does ethics mean in design? 
Overview is a hybrid print-digital experience that aims to explore this question through engaging stories and interactions. It was created by myself and 5 other RIT design students.
The Overview zine is comprised of 12 two-page spreads, each one addressing a different data-related topic meant to entertain and inform readers. The Overview mobile experience provides further context into topics explored in the print with "story" interactions that elaborate on each spread.
Target Device:
 Mobile (iPhone XS)
Print Media Size:
 6' x 9' mini zine booklet
With this project, there is an
opportunity
to
address ethical shortcomings
in the design and technology industries by introducing users to these serious issues in a digestible way. 
We created a mind map based on research and our own experience to narrow down what ethics means in design, and the one idea we kept coming back to was
user data collection.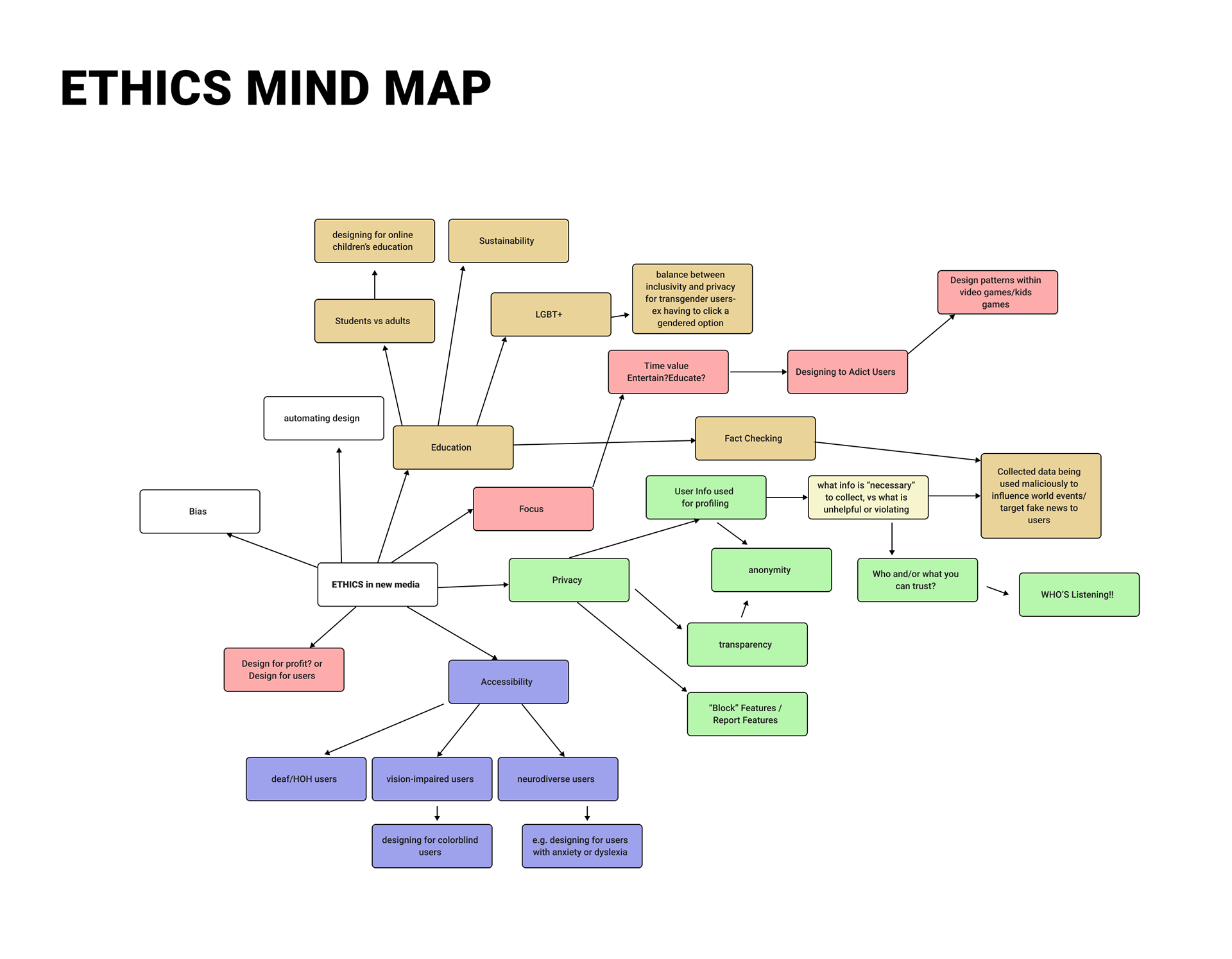 After doing research on the topic, we found some intriguing insights into the way people think about their data.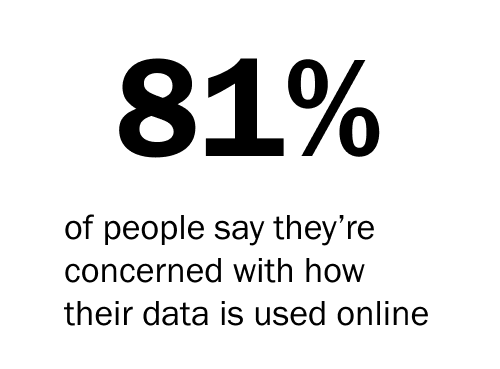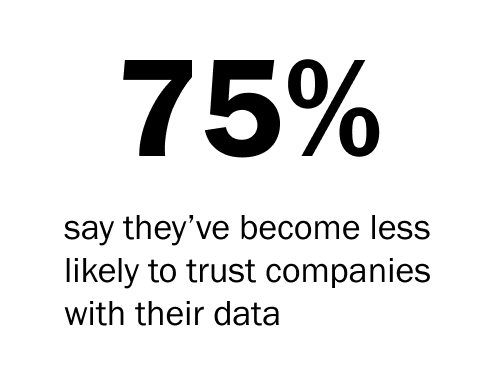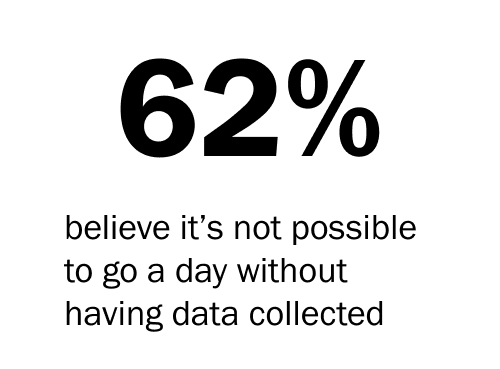 ​​​​​​
Opportunity:
target generation z with the
goal
of helping a new generation of social media users understand the life cycle of their data.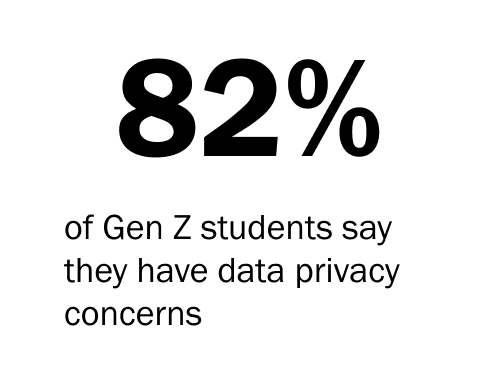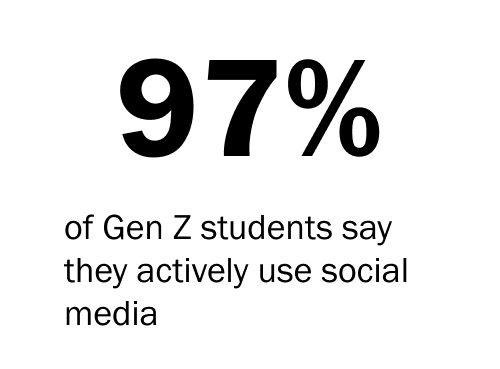 To start planning content for our experience, we mapped user data into multiple sub-topics. Each team member would design content for two of which.
- Introduction To User Data
- Dark Design Patterns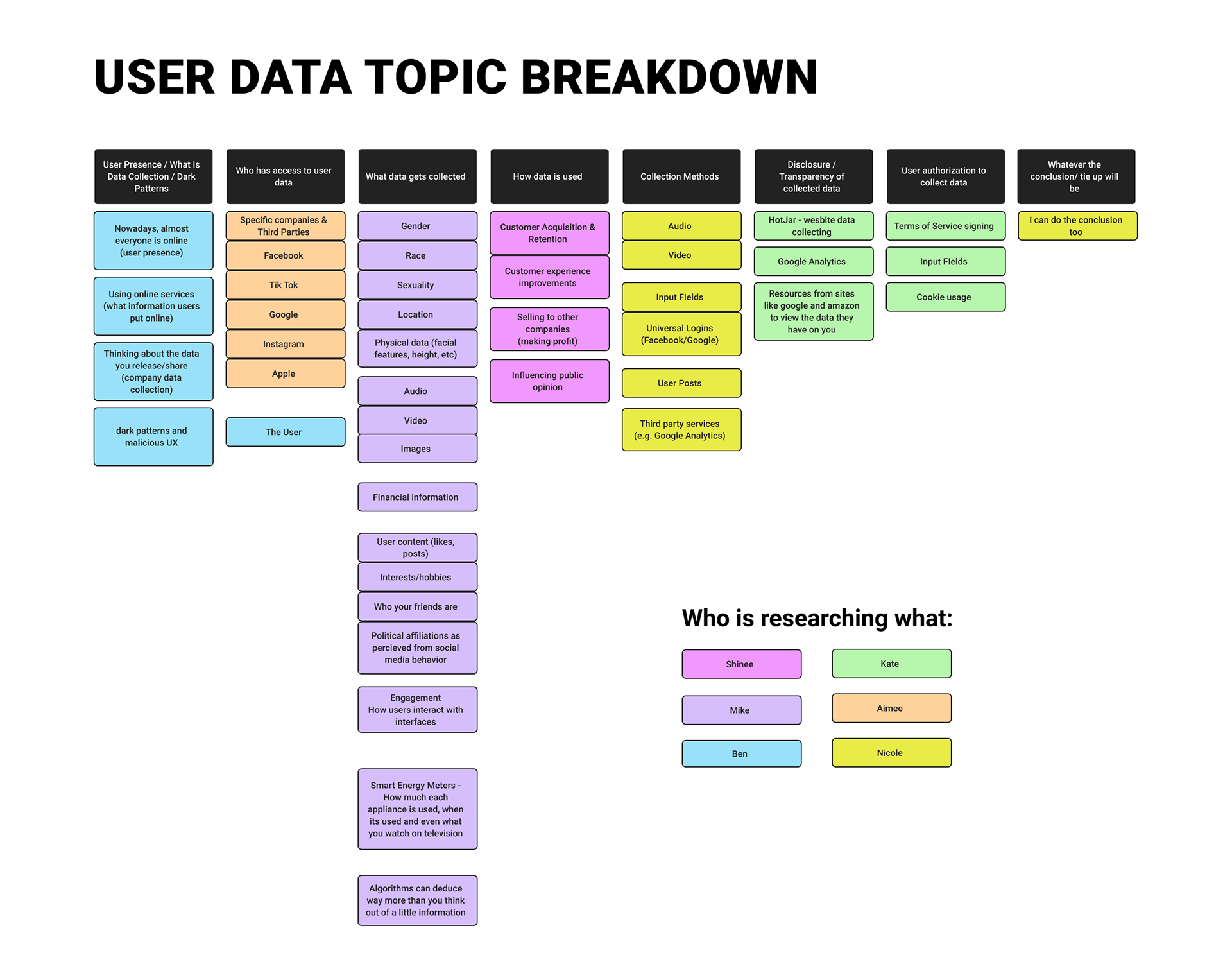 Our theme, digital stranger danger, blends today's dystopian technology with a look of 90s nostalgia in attempt to create a visual connection with our audience.
Embracing our thematic mix, we created 2 visual styles to switch between, depending on whether the content in focus would be more informational, or heavy-handed.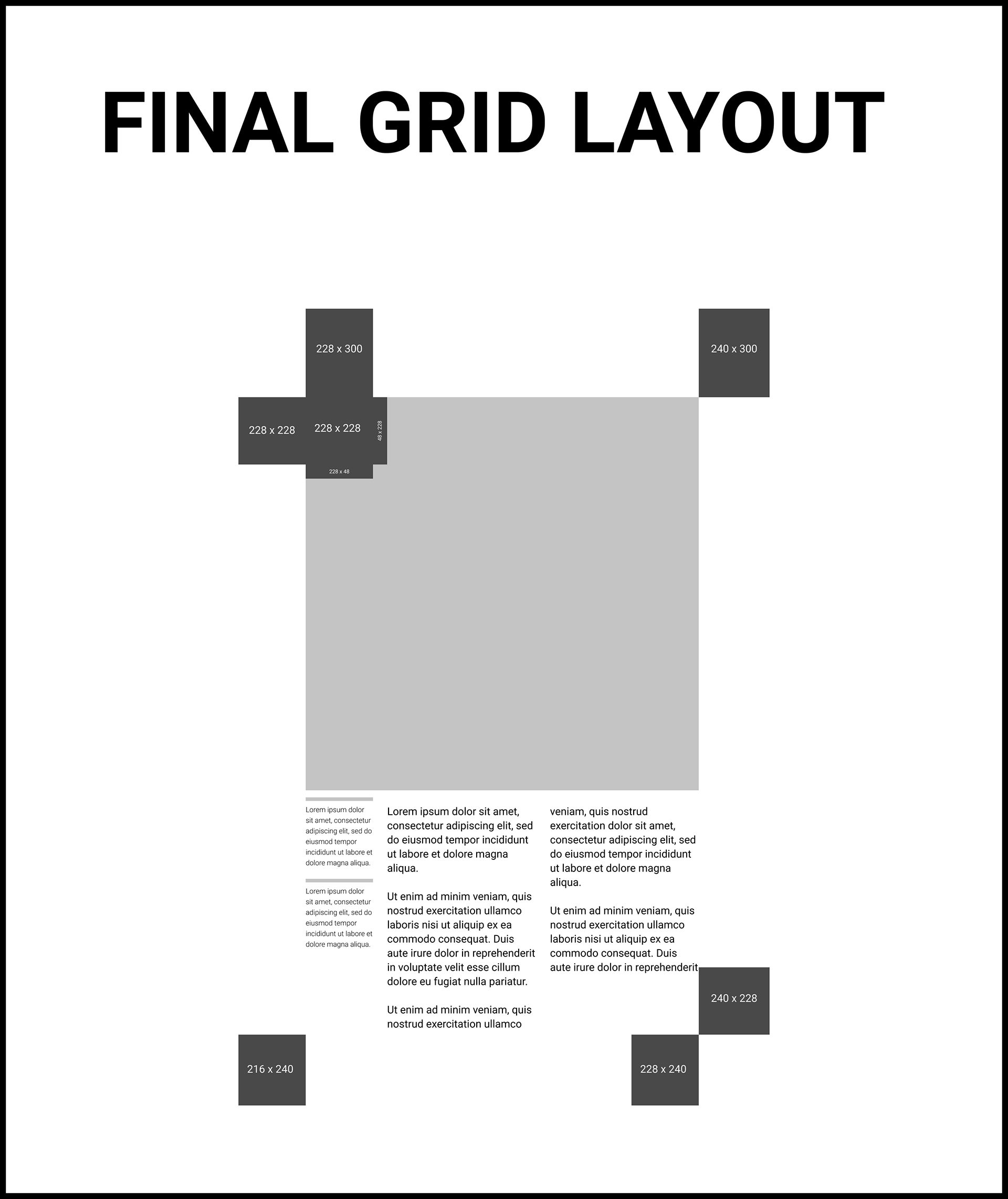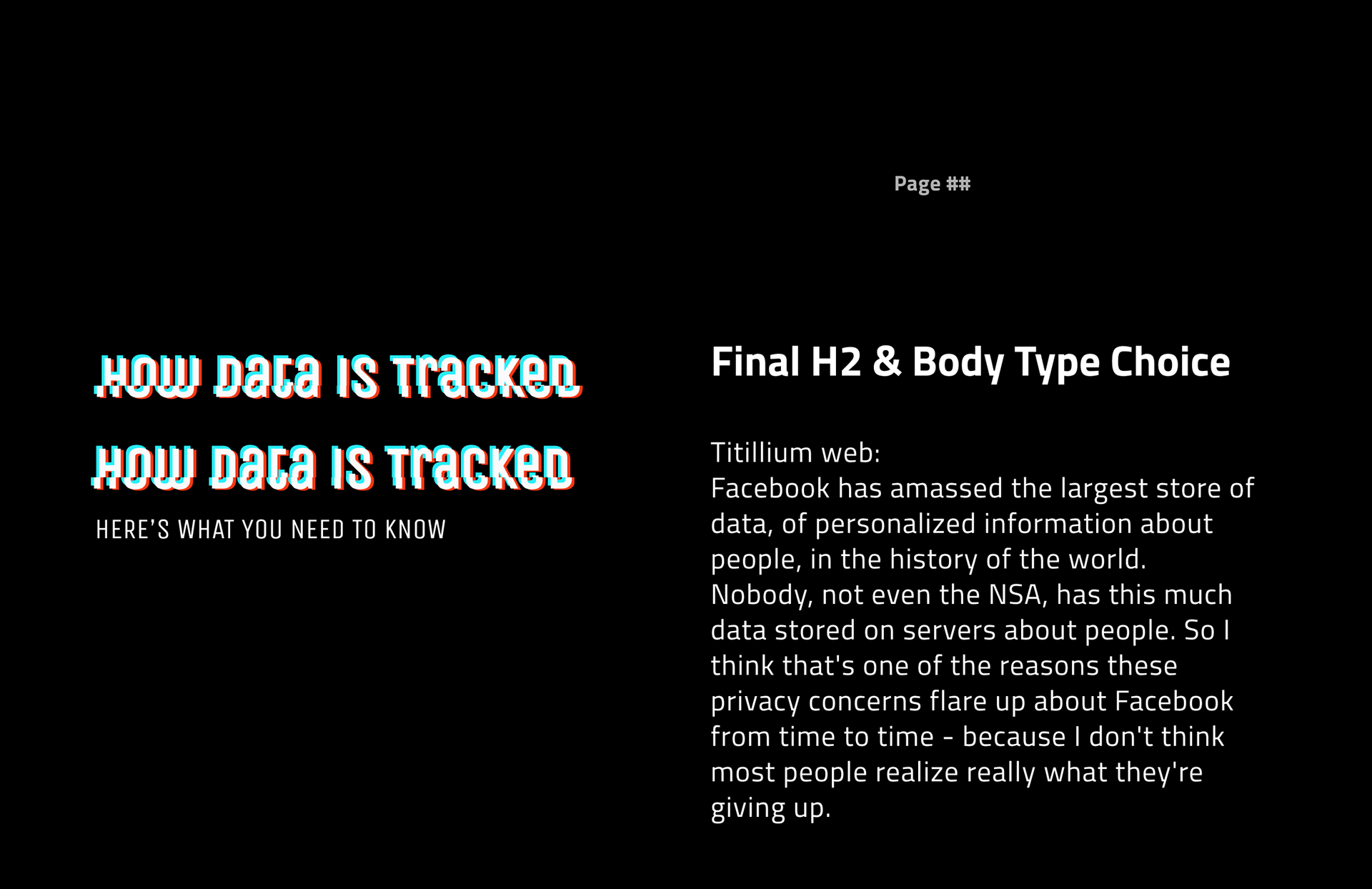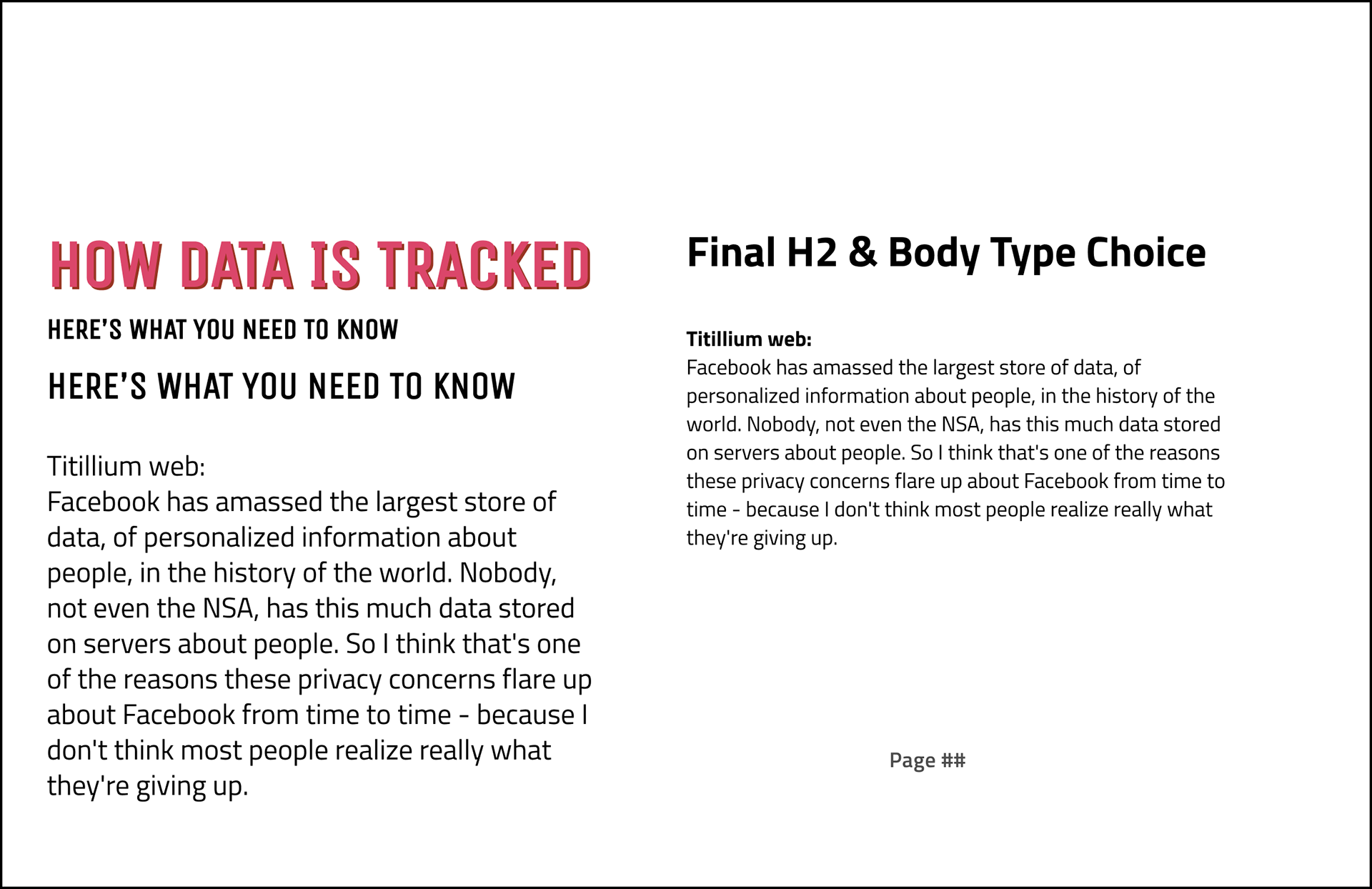 As opposed to designing print content in InDesign, all print assets were built and laid out directly in Figma to encourage collaboration across the booklet.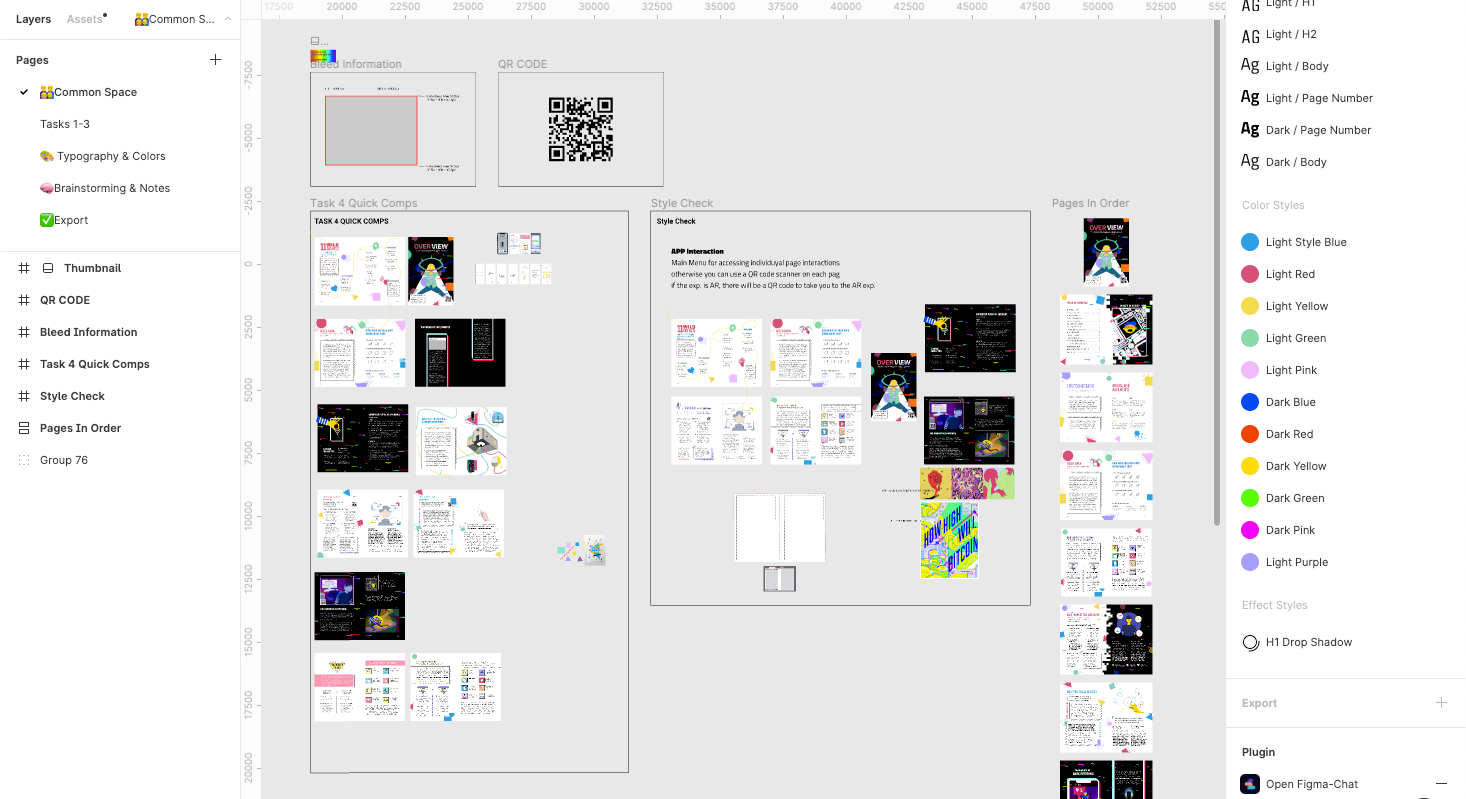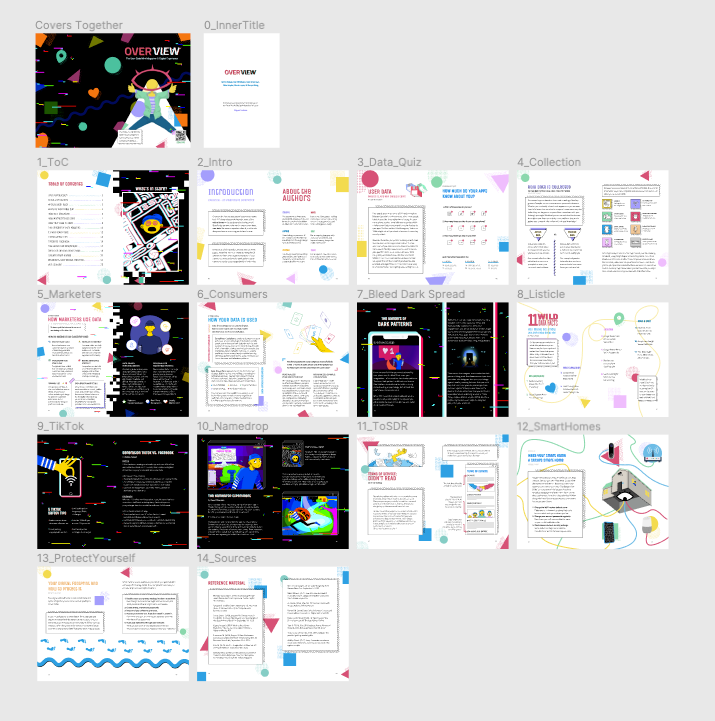 My first spread and the first page in the book introduces the reader to user data with a short excerpt, and also features a user data personality quiz, inspired by quizzes from tabloids and the BuzzFeed articles we all know and love. 
Spread #2 - Dark Patterns
My second spread introduces the reader to dark design patterns, explains the monetization of data, and outlines how design and user psychology are often leveraged to collect it. The visuals on the spread are intended to be metaphors for dark patterns.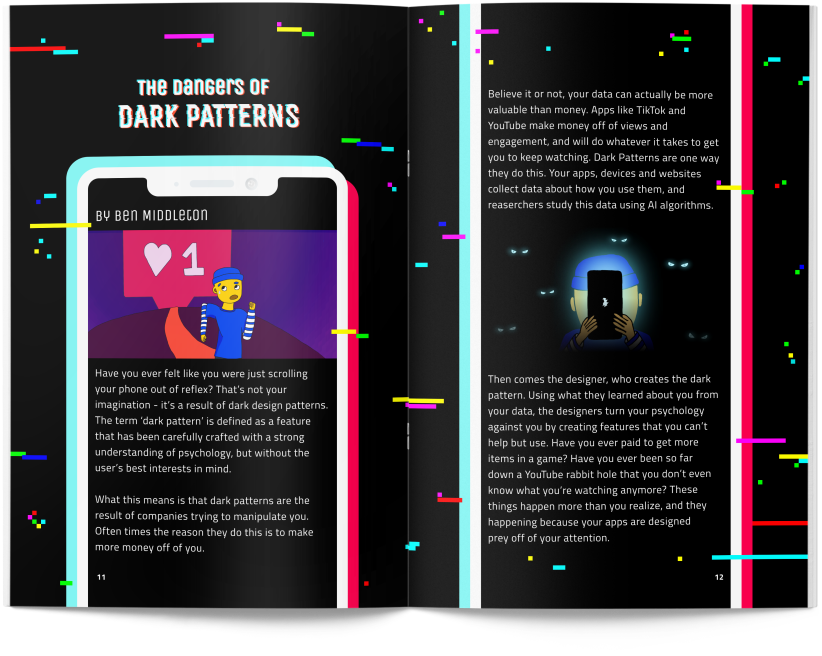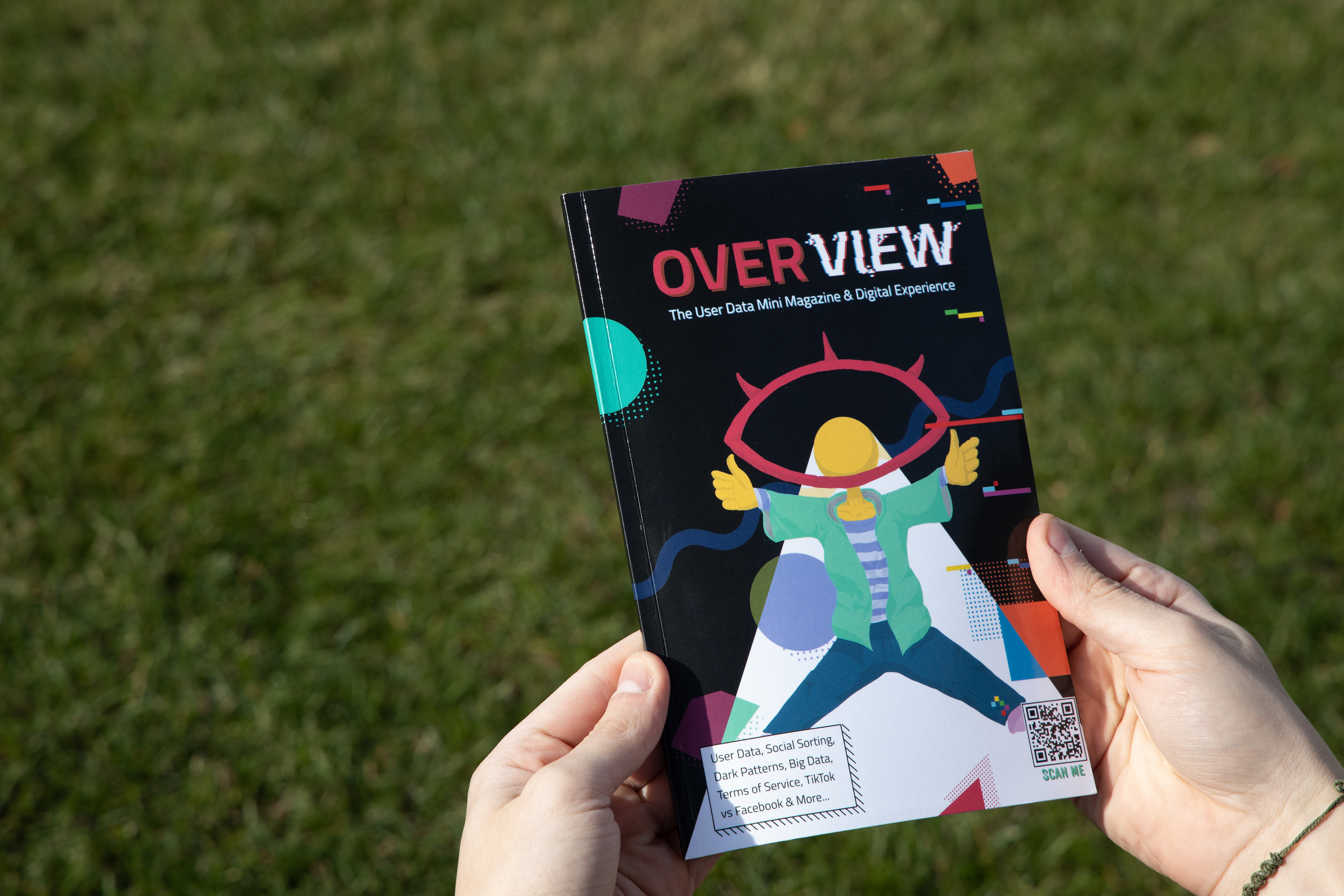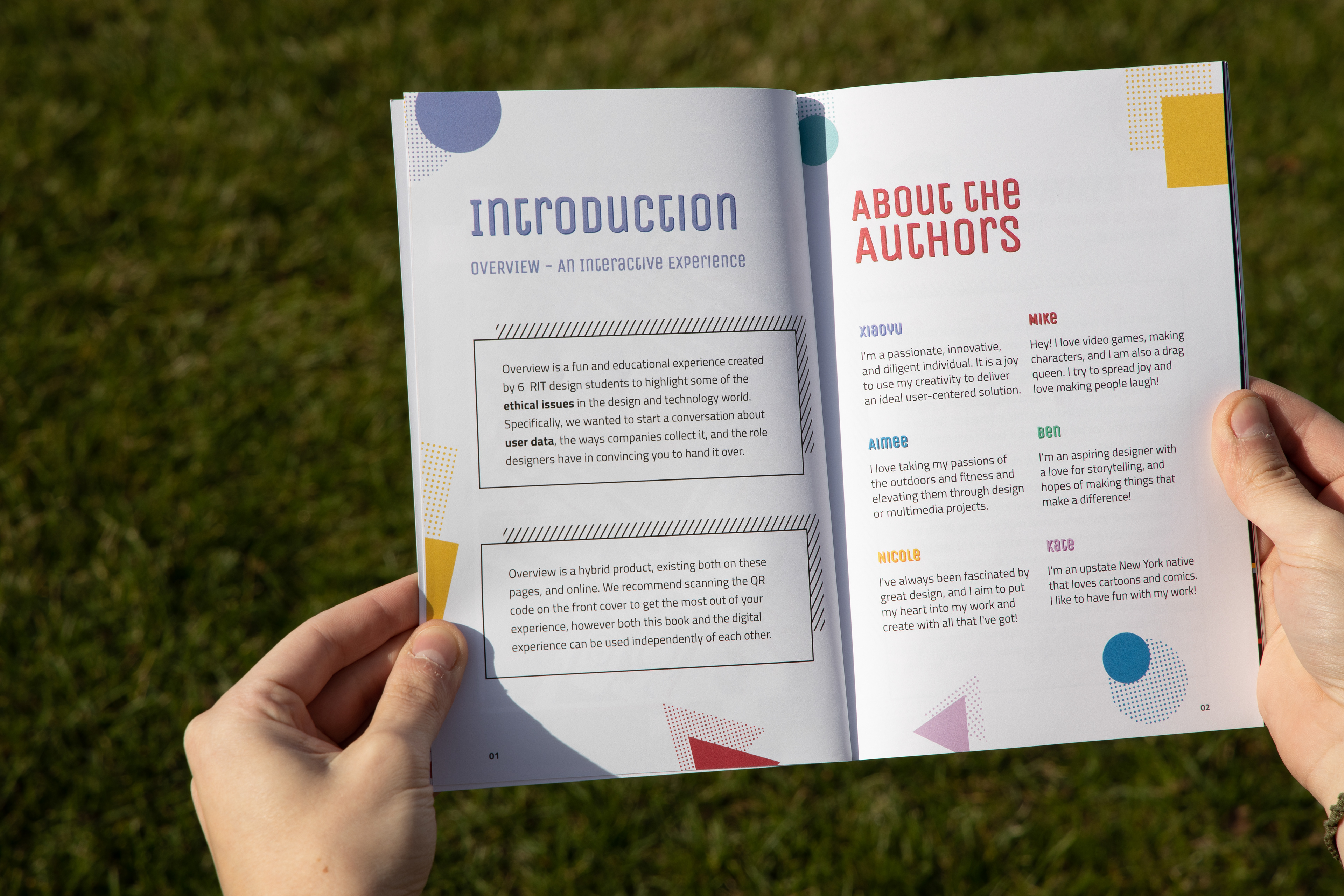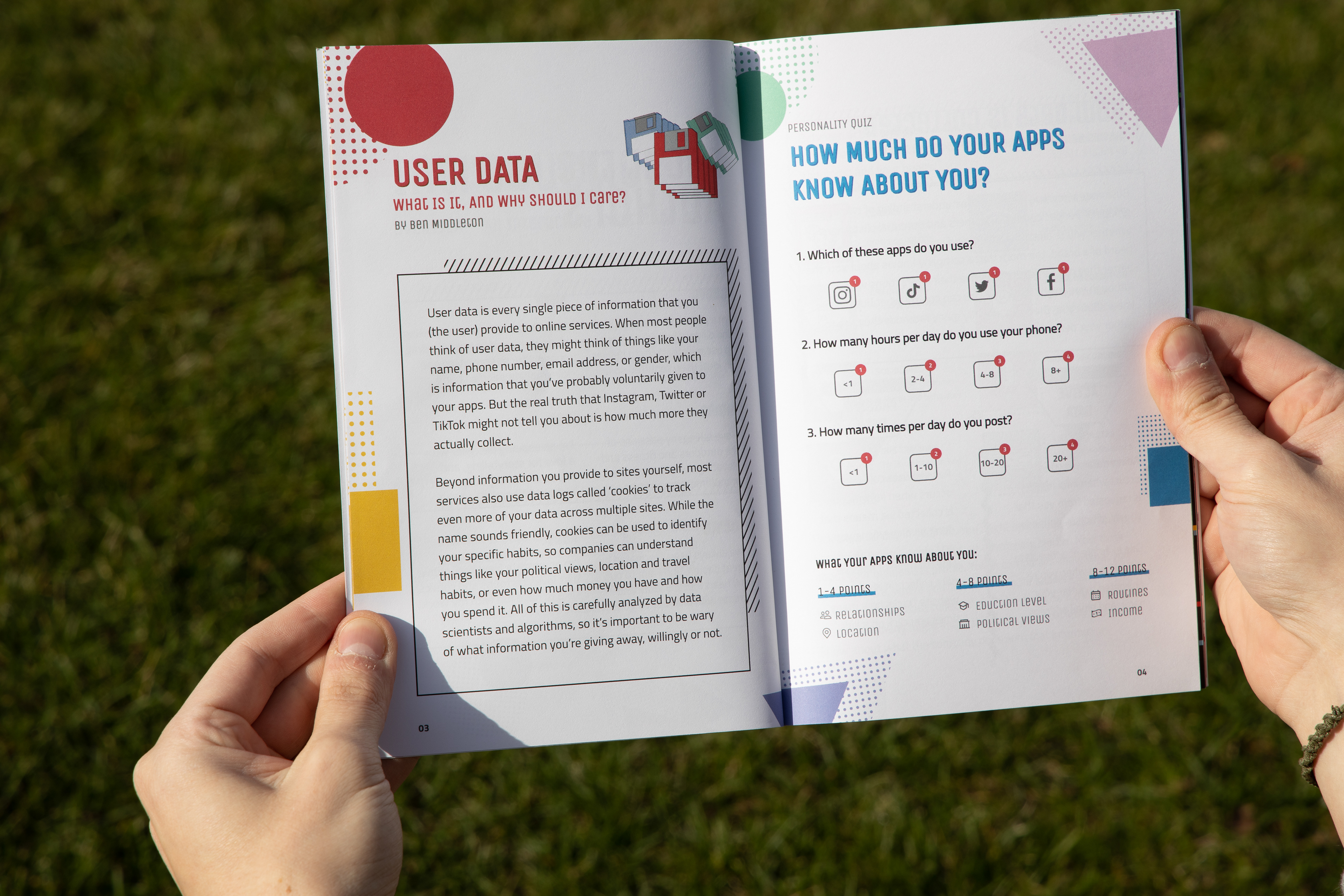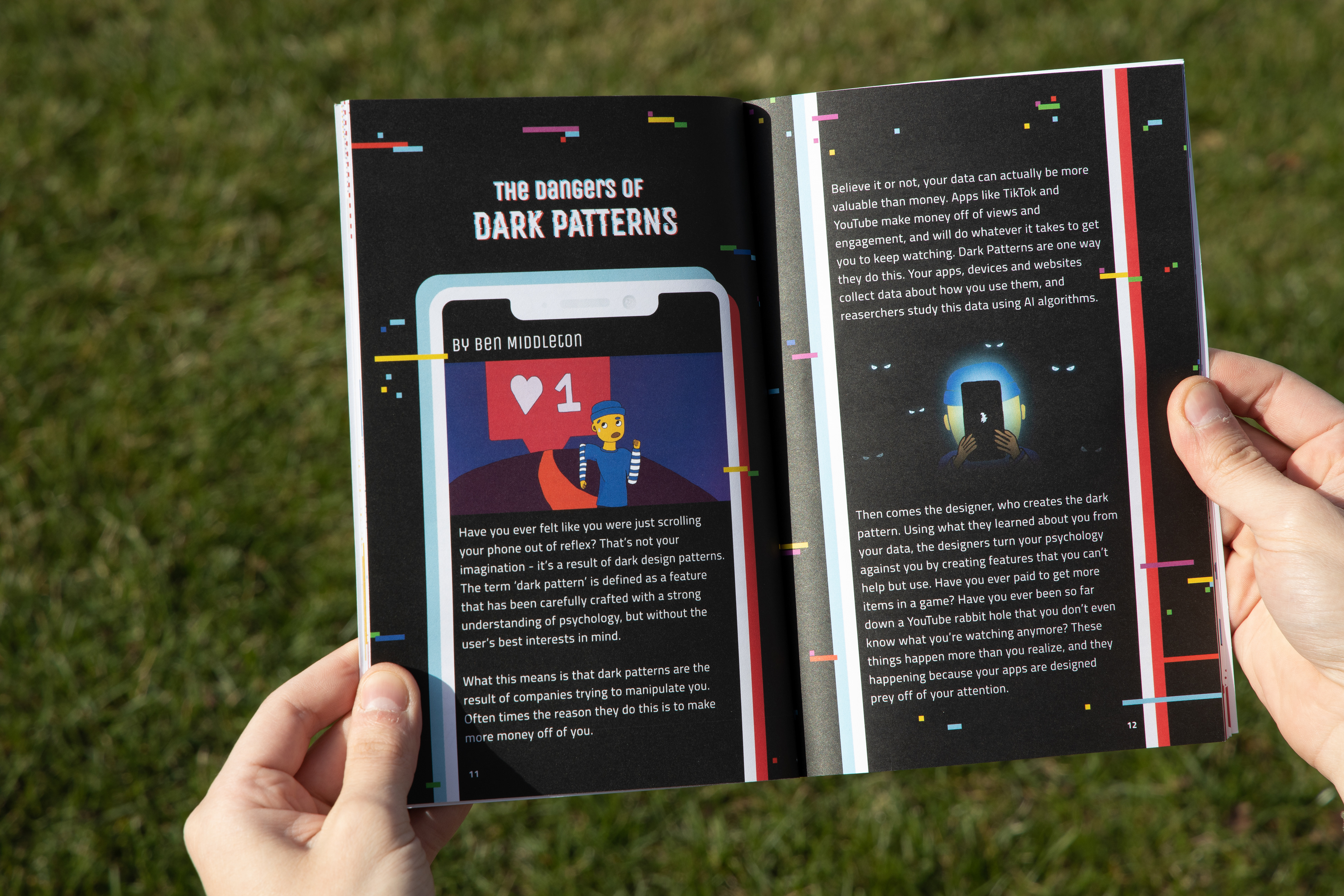 The Overview digital experience uses a QR code on the cover of the booklet to connect users with a Snapchat story-like interaction, with each 'story' correlating to one of the print spreads.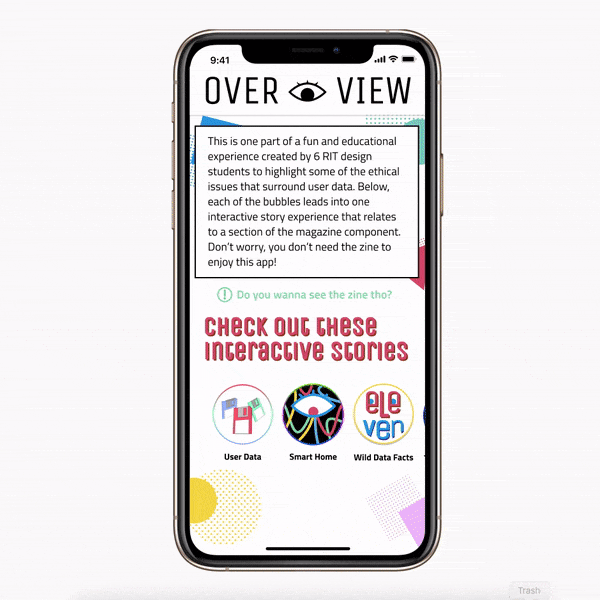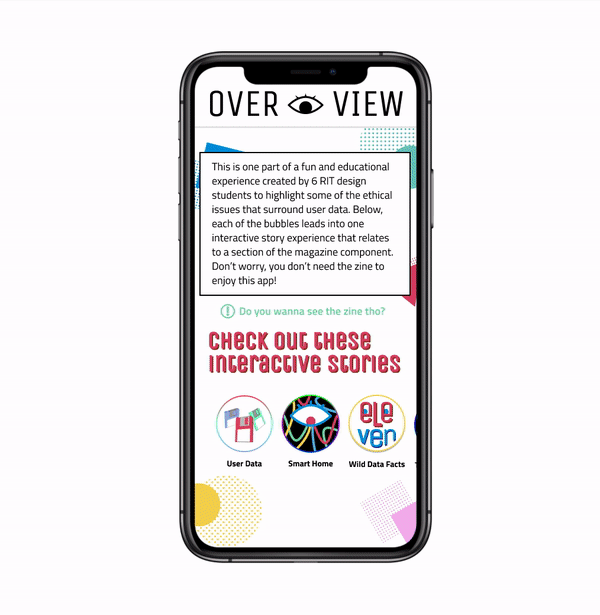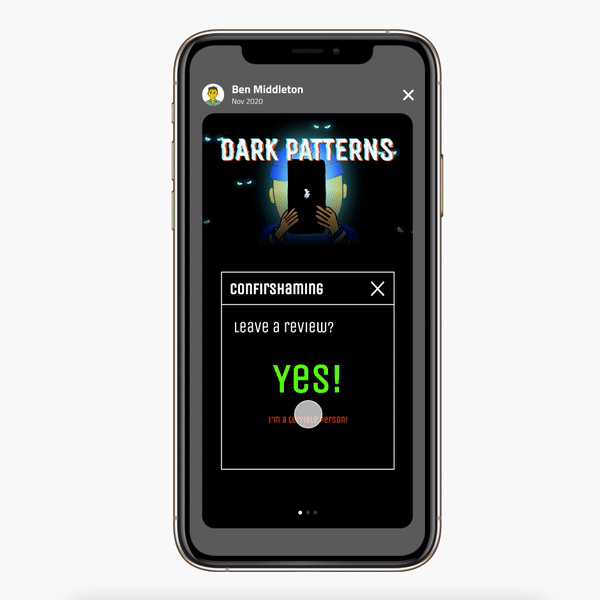 The user data story lists different types of data mentioned in the print spread and gives the user more context about how each is collected and used. 
The story for the dark patterns spread contains interactive UI components demonstrating common dark patterns to the user and explaining the interaction.
The complete digital experience has been published in the form of an interactive
Figma Prototype.
 (Memory Intensive)
Looking back, I'm very satisfied with the way this project turned out. Ethics is a topic I consider to be extremely important, and having an opportunity to start a conversation centered around it is one I valued. 
Designing for a Gen-Z audience was really fun, and there were some interesting discoveries we made about them that were reflected in our design. We used visuals that were meant to be familiar, including iconography of apps with notifications, TikTok-like color schemes, and even character design based on social media fashion trends. We also designed our content with short attention spans in mind, through the use of brief, casual copywriting and recognizable design patterns like stories.
Creating a hybrid print-digital experience was another opportunity I valued; I enjoy when different mediums can intersect with each other, and being able to explore different ways to do that ,from QR to AR, pushed me to think about ways to go beyond traditional editorial experience design and make a multifaceted product.
I also want to add a shoutout to the thoughtful and talented group of designers I worked with on this project - I'm very proud of the team for being able to see our vision come to fruition. Beyond the team itself, this project would never have been possible if not for lots of hard work by our amazing professor
Miguel Cardona
. 👏