Project Timeline:
1 Month
As digital technology becomes increasingly accessible, some states and countries are beginning to pilot digital driver's licenses for citizens. I wanted to imagine what a digital ID experience for New York State might look like.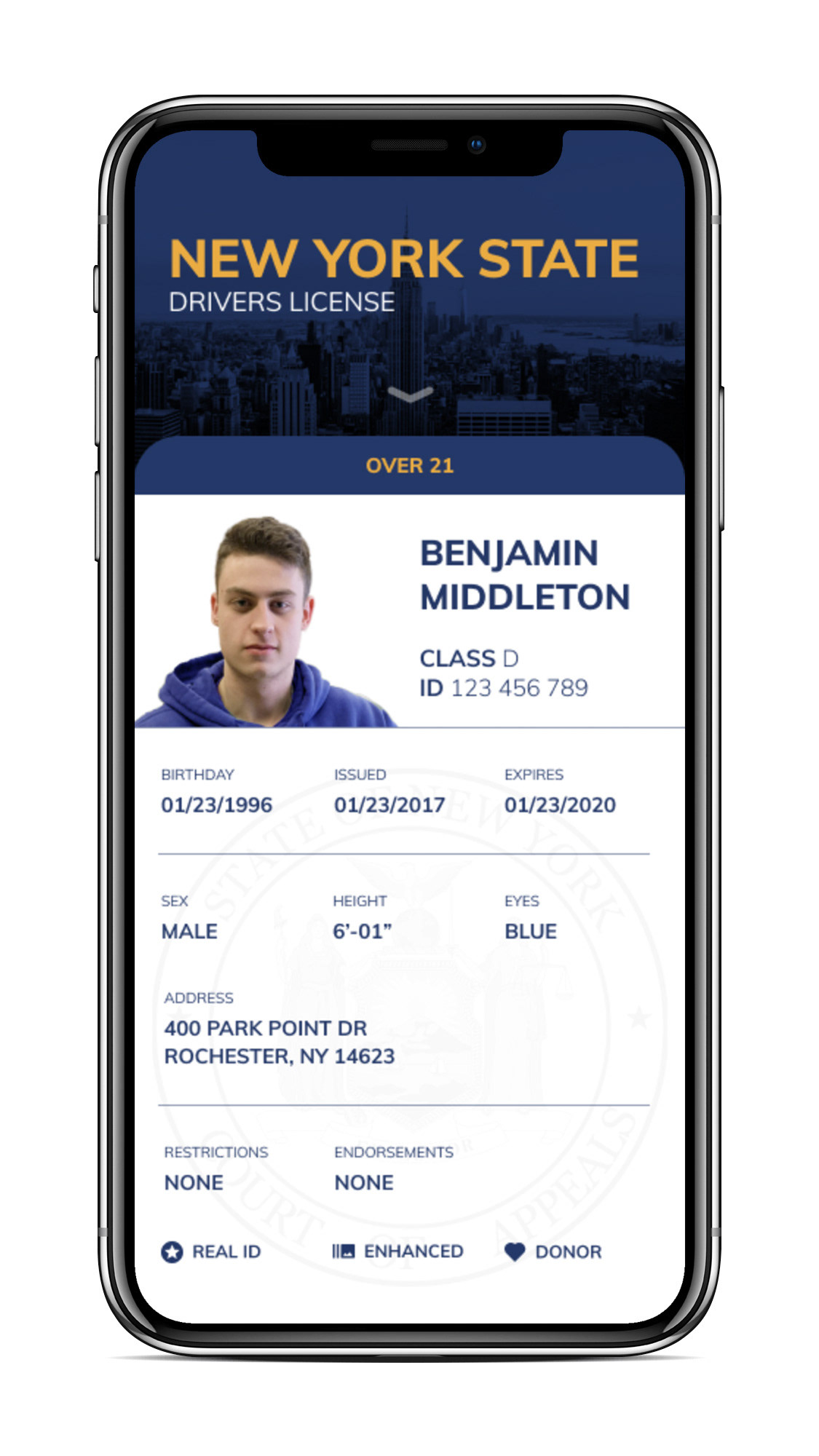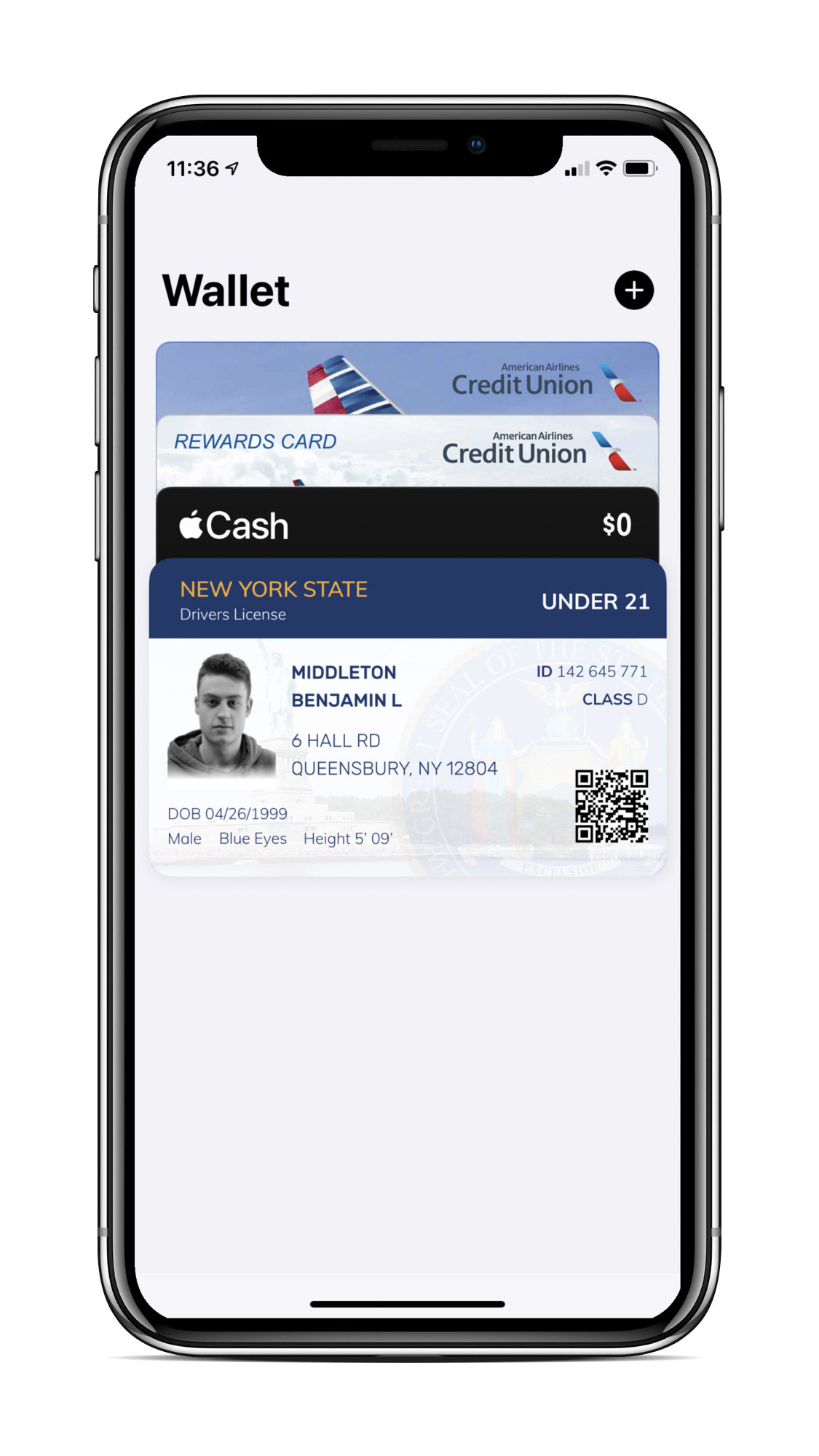 There are already a couple companies working on piloting digital identification in states across the US right now. The ones I looked into specifically were Gemalto (now Thales) and Idemia. Both companies have their own solutions to provide citizens with these ID's. Through my research of them and other digital ID pilot programs, I narrowed down 4 key criteria that should be met for any digital ID to work:
- Accessible online and offline
- Highly secure to protect data
- Can be accessed by any authority who needs it
- Able to manage integrity of the users' data throughout its lifecycle. 
If all of these boxes are checked, then a digital ID should work successfully. 
Ideally, my system would feature DMV issued 2-factor authentication login credentials for every user, and a database that utilizes blockchain to securely store user data. Another extremely useful feature included in many pilot programs is the ability to transmit your ID to an authority, for example a police officer, via bluetooth or NFC to enable a contactless interaction for things like routine traffic stops or speeding tickets. This feature would be both convenient for the user, and help eliminate the risk of police interactions being escalated without cause.
Goals and Considerations:
​​​​​​​
Security -
Your license is an official government identification, and it goes without saying that security is important when it comes to your personal information. It's important to make sure that not only is your information safe from theft, hacking or tracking, but that your ID doesn't give away more of your info than is actually necessary. With security in mind, one goal I had for this license was to use progressive disclosure to display only relevant information on the license depending on the situation - bartenders don't need to know your home address, only if you're old enough to drink.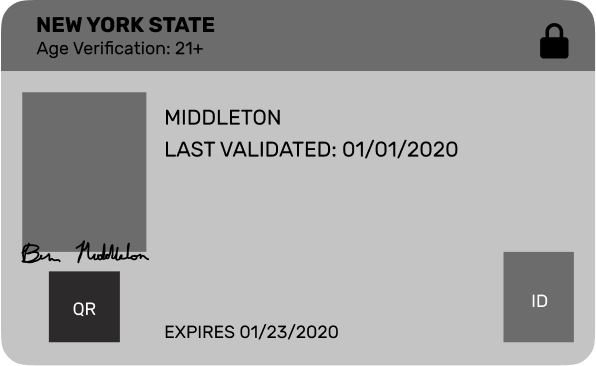 Convenience

- Being able to pull your wallet out of your pocket and flash it to a bouncer is pretty convenient. For a digital ID to work, it would need to be just as seamless. To create a convenient experience, the new ID would exist as its own app, but also have a 'wallet view' ID card that could be accessed through Apple Wallet or Google Pay to allow users to show ID without even unlocking their phone.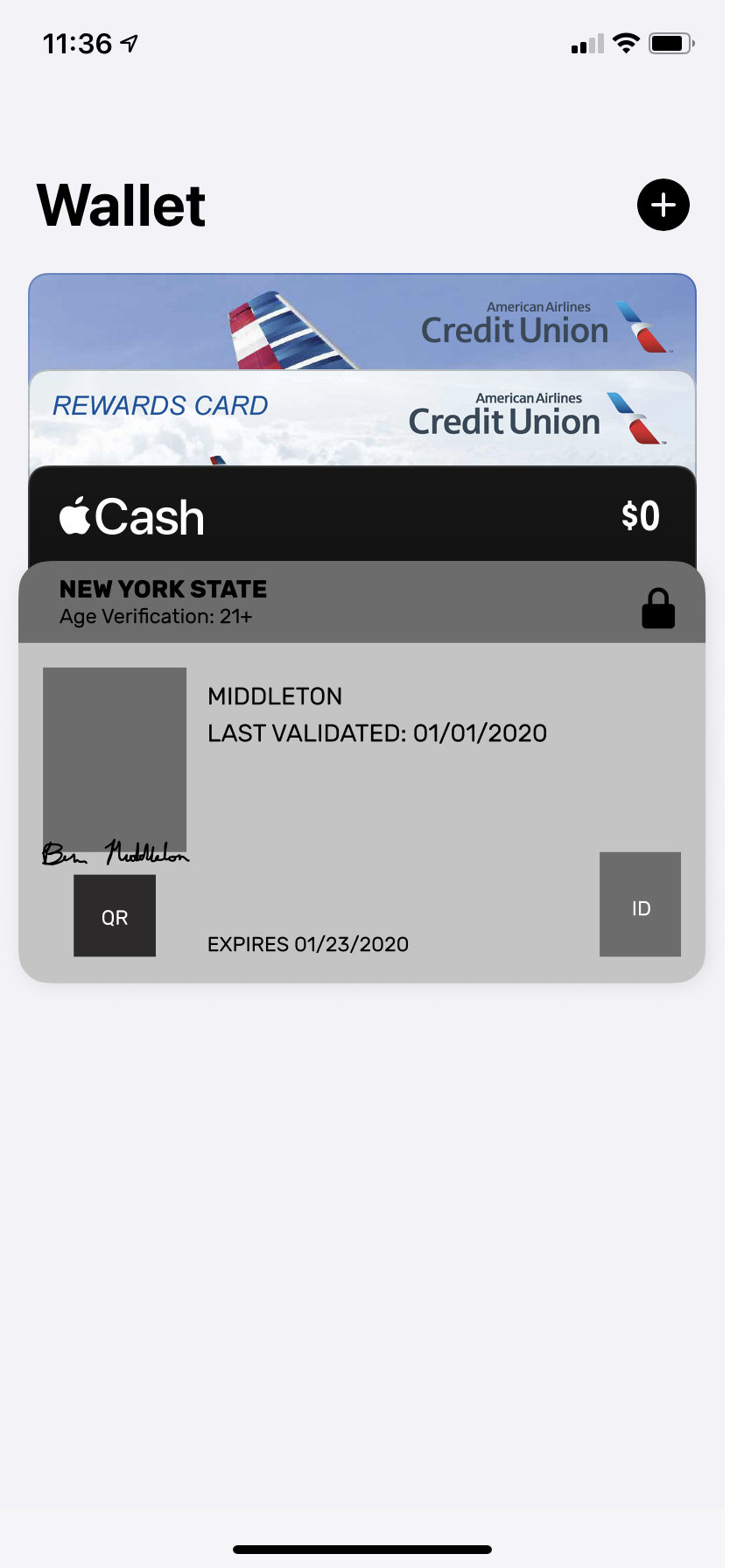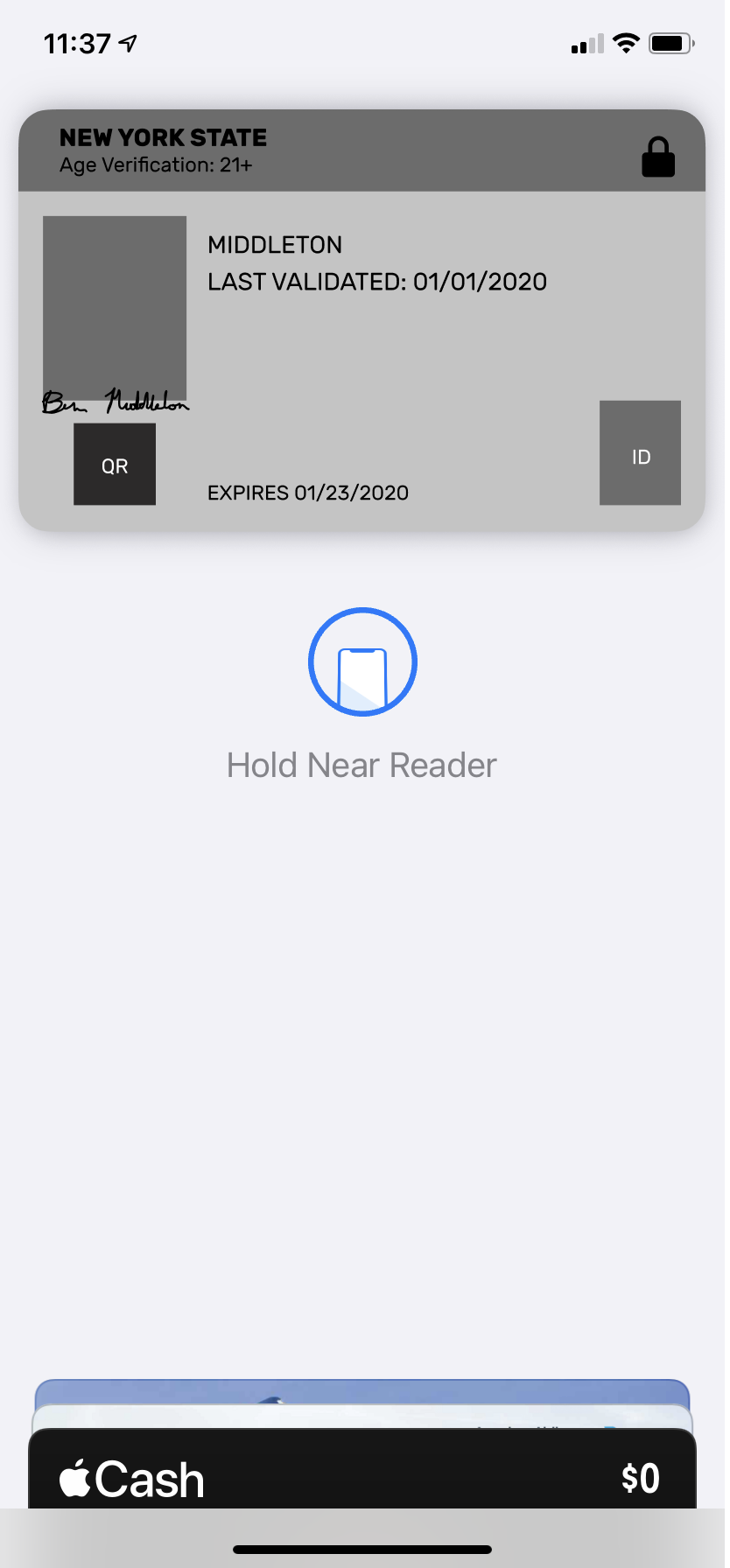 Familiarity

- The last major goal for my digital ID was to try and make something that would already look familiar to most users. Using colors, formatting, and imagery that is already familiar to residents of New York would be a huge priority if people are expected to

feel

like this is their driver's license.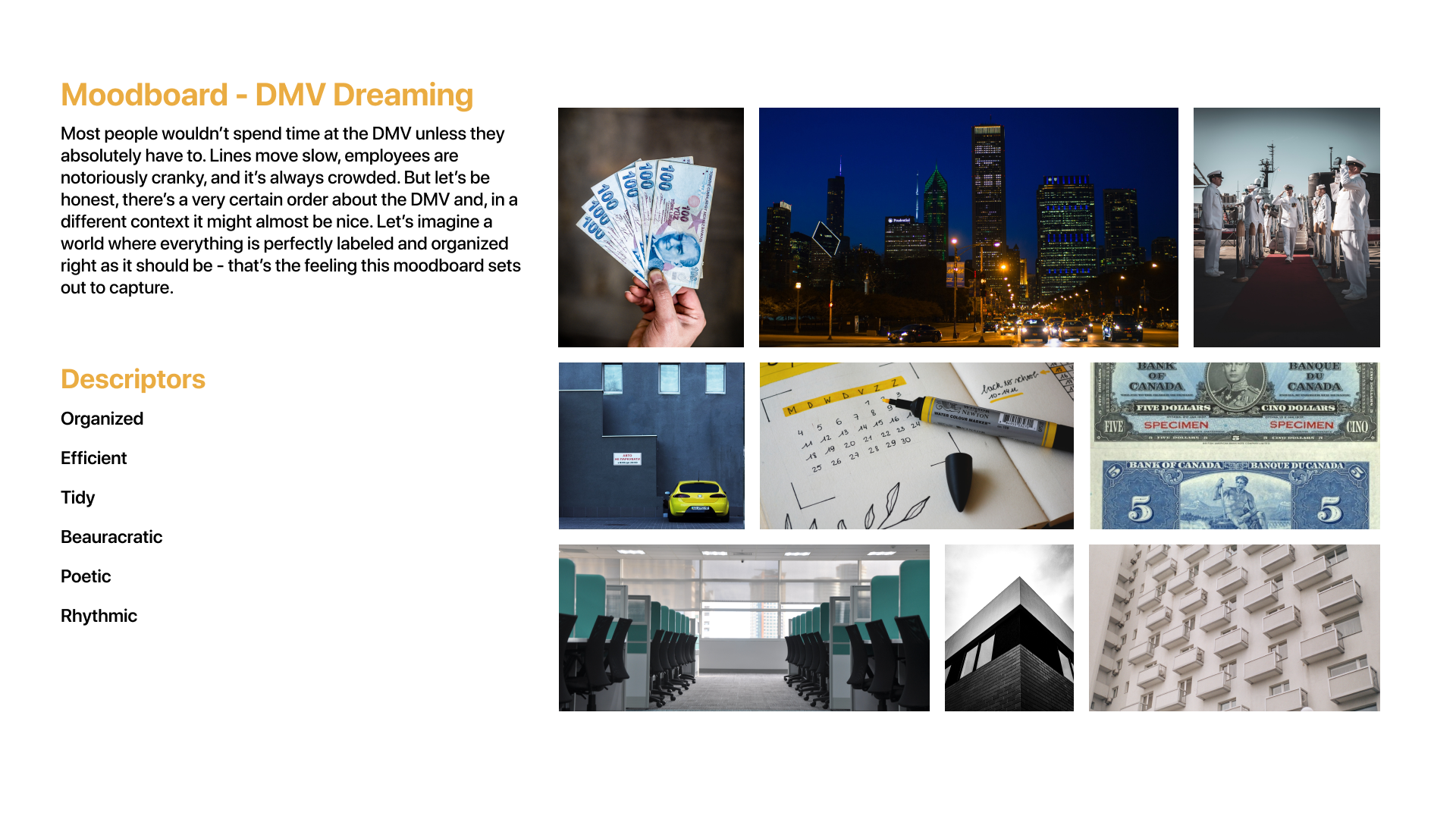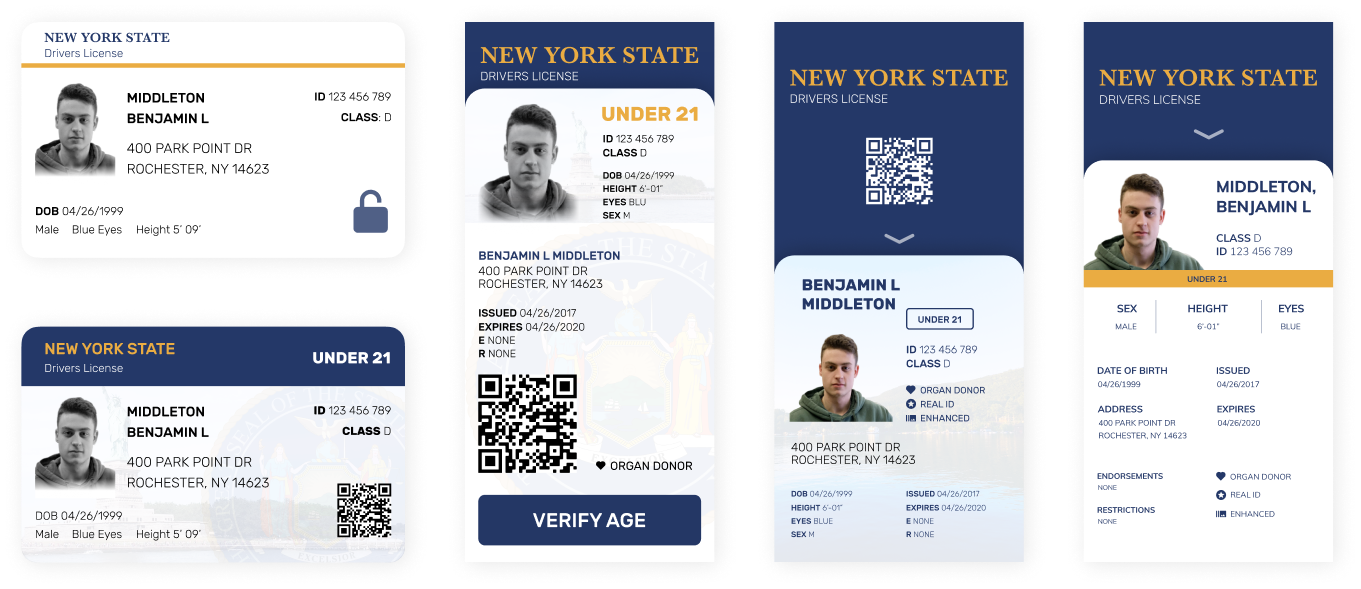 Iterative explorations of New York branding through the use of familiar typefaces, colors, and New York State background imagery.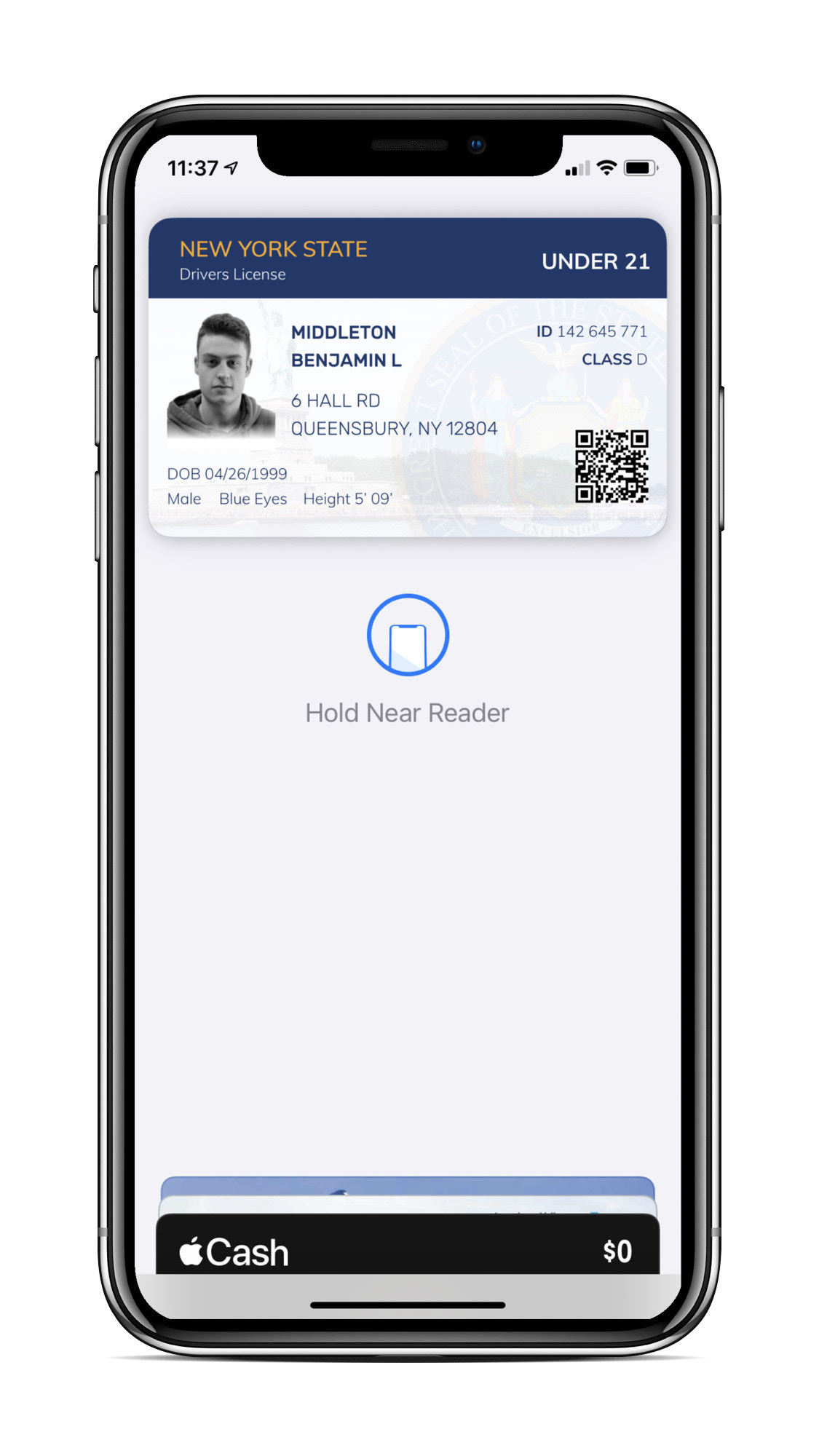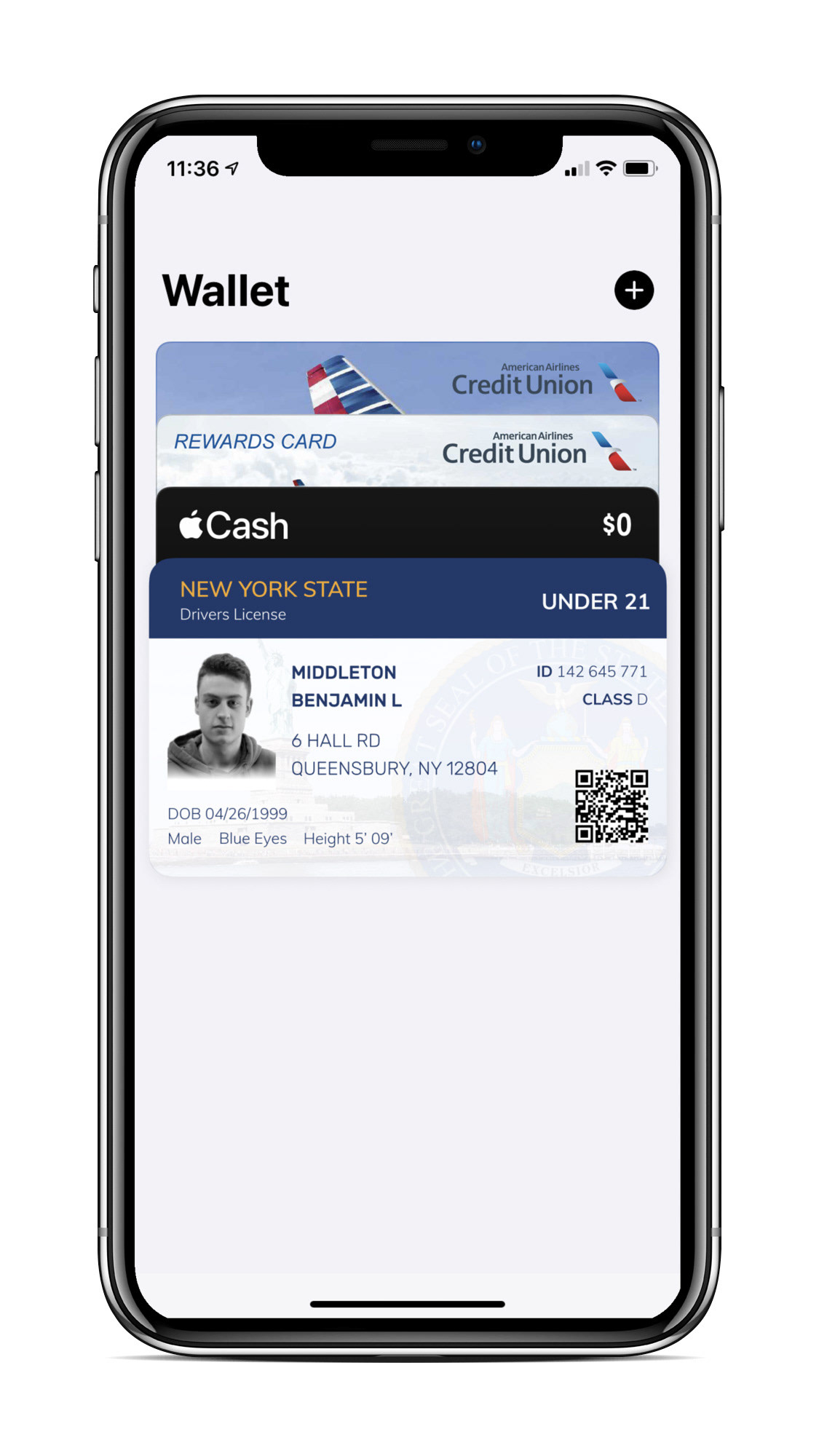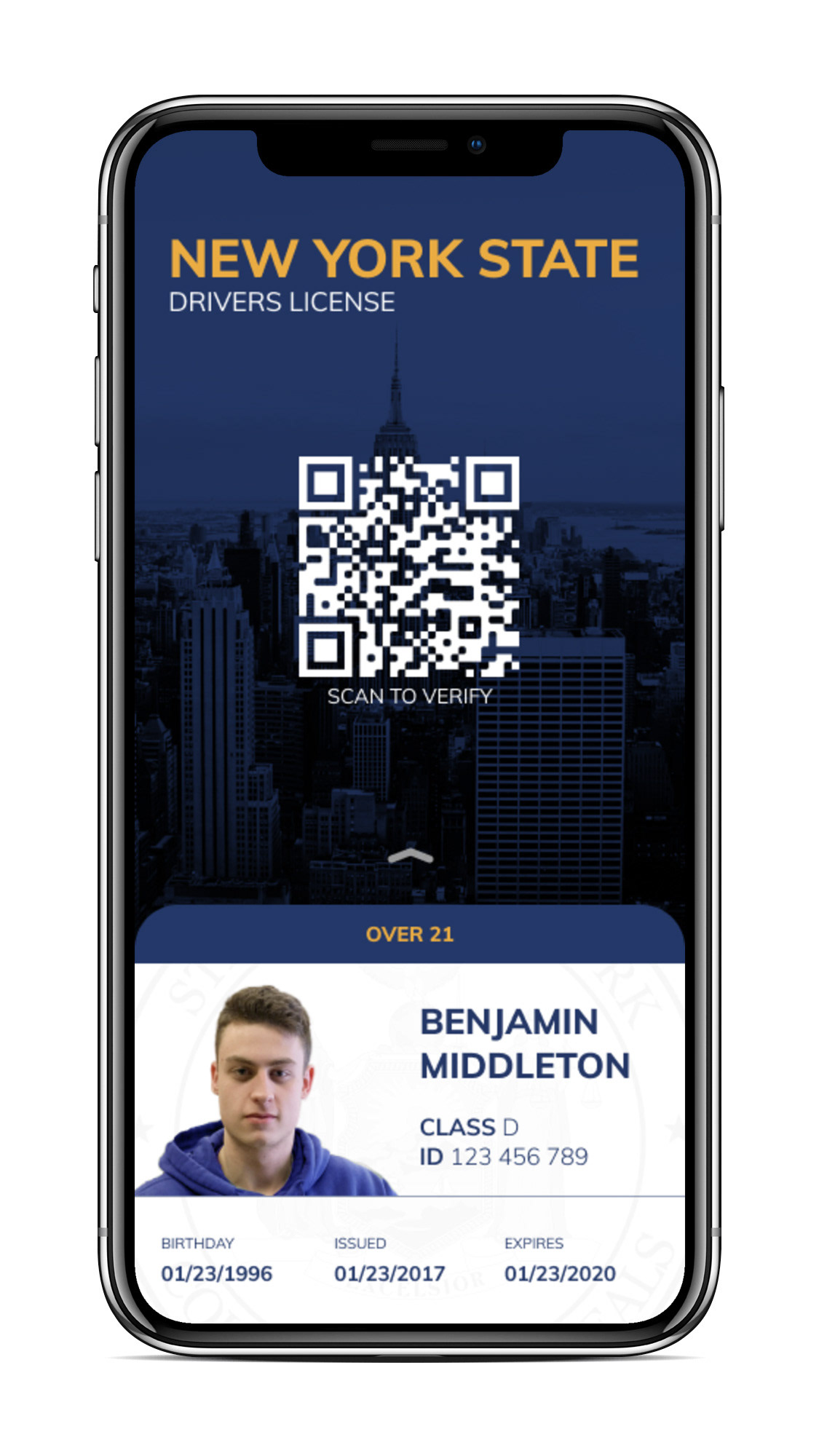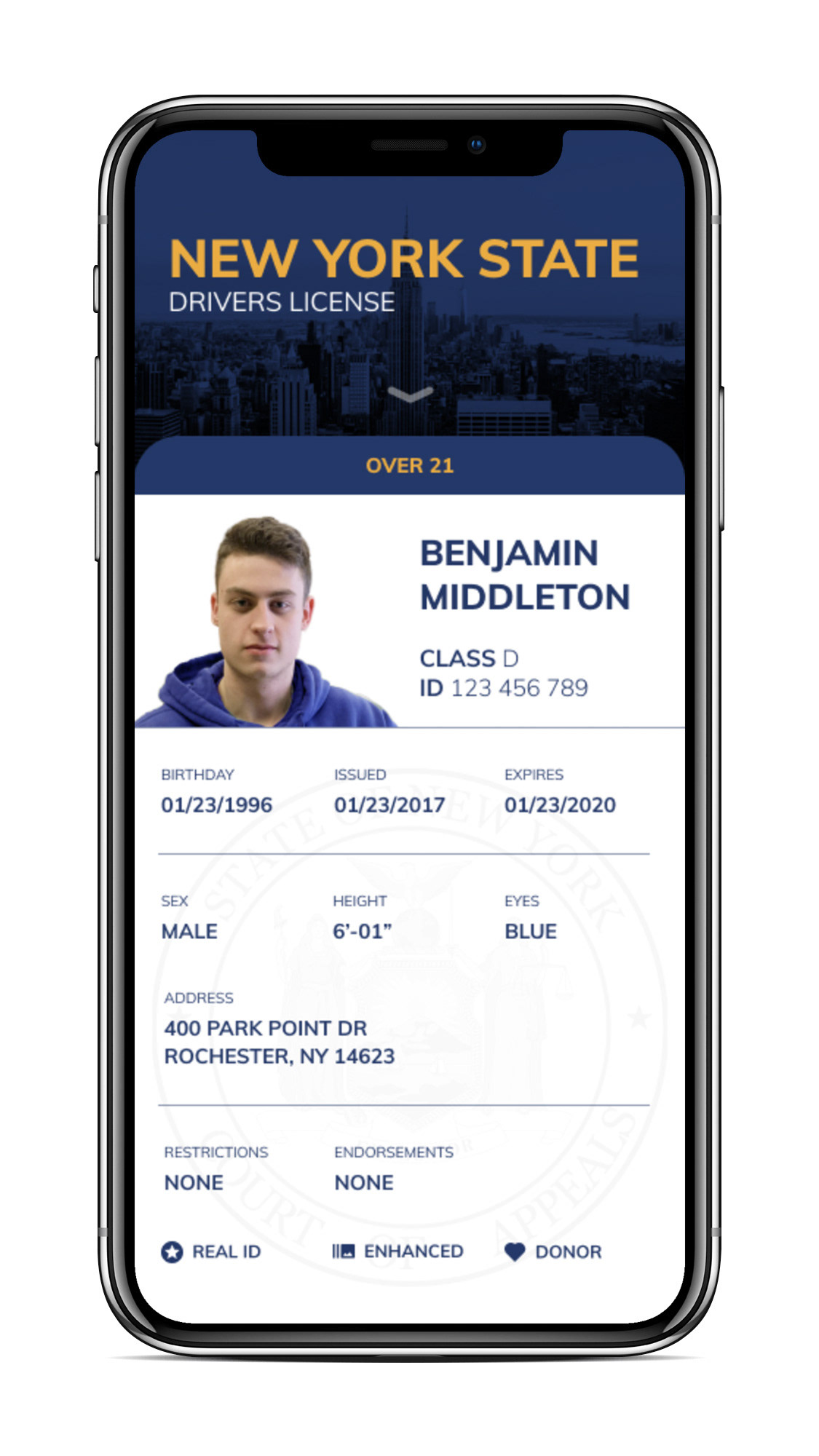 - QR code allows for easy scanning by store clerks or law enforcement
- Separate ID views utilize progressive disclosure to only reveal necessary information
- Wallet view enables seamless access for the user
- New York brand colors and imagery of New York City establish familiarity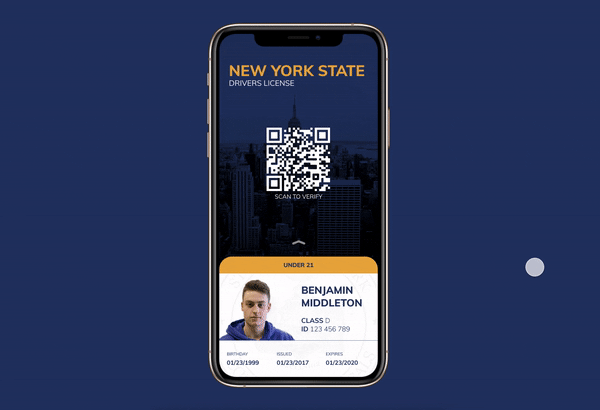 This was a project that I enjoyed more than I expected to. Designing a secure experience challenged me to think differently about the way I would display information with regards to security standards, and be extremely critical when deciding what needed to be included and where to display it. 
Since different states have different regulations for what information needs to be displayed on drivers licenses, it was also interesting to think about other use cases and attempt to design in a format that could be reused with different state requirements. Ultimately the parts of this product that I think work the best are the branding, and the use of progressive disclosure to provide limited secure views of the user's personal information.